Vicar's Viewpoint June 2020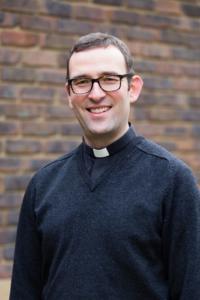 With four of us in the Vicarage, all working online in different rooms, our broadband has sometimes struggled to cope. As a result, a message often pops up when I'm on Zoom meetings telling everyone that 'Joe Moffatt has got limited bandwidth'. This amuses me, as it describes how I sometimes feel when going from one call to the next, day after day. But I don't think I'm alone. Lots of people are saying how much more tiring it is to do all our meetings and conversations online or over the phone. We don't get energised in the same way that we do when meeting people face to face.
I suspect that 'limited bandwidth' syndrome is a common feature when living through a time of collective trauma. When the initial 'heroic' response phase passes, it is natural to slump into a state of fatigue and have difficulty concentrating or working effectively. I've found it helpful to listen to psychotherapists who are able to explain the reasons for this.
The lesson I take from this is that I need to be kind to myself, and allow a bit more time to breathe, be calm and rest. This in turn enables me to expand my bandwidth so that I can be empathetic to others. And it is kindness and compassion that will get us through this crisis.
A priest called Martin Wroe has written an amusing poem called 'A Blessing for a Meeting on Zoom' which gives thanks for this 'awkward digital blessing' and says: May travelling this unfamiliar landscape, neither lose us, nor completely exhaust us and may our bandwidth always find room for patience, gentleness and the peace that bypasses misunderstanding.
Best wishes
Rev Joe Moffatt