Vicar's Viewpoint December 2020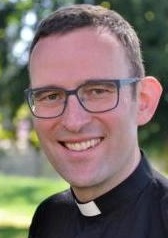 'More not less' is my Christmas message this year. The need for Christmas is certainly 'more not less' – for something to lift our spirits and bring us comfort and joy at the end of this difficult year. And our efforts to celebrate Christmas will have to be 'more not less', including imaginative ways to connect with loved ones despite the restrictions.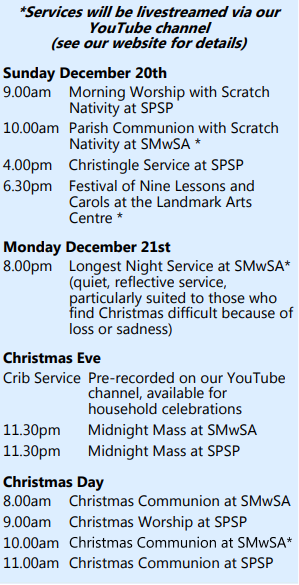 'More not less' is also our strategy for Christmas services. Needless to say, we can't have our normal Crib Services on Christmas Eve when 1300 people cram into our small church in the space of just three services. So we hope to have One Thousand Crib Services instead. 'How can you possibly do that?', I hear you say. The answer is by having those services in a thousand homes. Yes, we will be recording a version of the Crib Service for you to play online and to sing along to at home. We hope you might find or make a crib set – and, if restrictions allow, invite neighbours and friends to join you. Nearly all the churches in Teddington are participating in this initiative, and we hope that you'll post a photo of your crib or celebration on our social media.
Other services will be offered in both SMwSA and SPSP, including two at Midnight and four on Christmas Day, and the full list is opposite. The need for social distancing means that numbers will have to be restricted and so advance bookings will open on 14 December. Many of these services will, however, be livestreamed and made available online.
Finally, 'more not less' is fundamental to the Christmas message. God, who gives us Creation, gives yet more of himself in Jesus, demonstrating that his love for us is always 'more not less' of what we can possibly imagine. Let's make our celebrations 'more not less' in response.
Wishing you comfort and joy,
Rev Joe Moffatt