Vicar's Viewpoint August 2020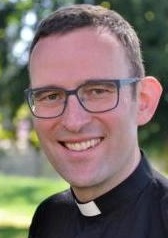 August is always a mixed-mode month: part holiday, part work. But this year it's mixed-mode in the extreme: everything is part lockdown, part back to normal. It's a difficult state to find ourselves in.
Mixed-mode is how I would describe our public worship at the moment; part online, part back in church. We've already restarted our small, quiet services – 9.30am on Wednesdays and 8.00am on Sundays. Then we're restarting our all-age Sunday 9.00am service on August 2nd, conscious that our families with young children might be the most eager to return to church. But, in order to avoid the overlap with the 8.00am service, this will take place at St Peter & St Paul. And we're not allowed to sing so we will have to listen to prerecorded songs on a video screen. Finally, we're not restarting our Sunday 10.00am service until September 6th since we need to build up slowly and get the right measures in place to have two services safely in the church on the same day.
Hopefully by then the restrictions on singing and numbers might be eased a bit, but we're not expecting it to be entirely back to normal. We will therefore keep going with our online pre-recorded services throughout August and beyond.
Learning to live in a mixed-mode state might be one of the positives that emerges from this pandemic. Offering worship in both our buildings and online is just one of the ways we can do this. Learning to offer hospitality that is both generous and safe might be another. I hope we all learn a few mixed-mode skills. But let's also be gentle with each other and ourselves, since none of this is easy.
Best wishes
Rev Joe Moffatt