Vicar's Viewpoint April 2021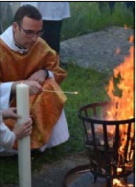 Finally, we're back to in-person services again. What a relief! I think people will enjoy coming back to church again with a renewed appreciation for both the building and for communal worship. I'll certainly be grateful to be looking at real people rather than just a camera.
That said, the need to get up to speed with online church has brought about some lasting benefits. Firstly, there is a much bigger group of people praying for, and on behalf of, the parish. Instead of one or two people occasionally joining the clergy in church for daily prayer, we now have ten to fifteen people joining us every morning and evening on Zoom. This provides a wonderful bedrock for everything that we do.
Secondly, we now have the equipment and know-how to continue livestreaming our services. This means that people can continue to worship with us even when illness, location or other commitments prevent them from coming to church. We've had some wonderful stories of people reconnecting with us, even though they've moved out of the area some time ago.
Thirdly, this livestreaming capability is already proving to be a huge blessing for funerals and will be popular for baptisms and weddings as well, enabling family and friends from all over the world to participate in these momentous life events. Last month I conducted a funeral for a remarkable ex-parishioner who reached the age of 100. Only 5 people were able to attend the service in church, but we had 150 viewers from around the world. A nephew in Brazil heard me talk about this parishioner helping us set up our parish link in Mozambique. He has since put me in touch with a Brazilian RC priest he knows working in Pemba, the exact same parish we're linked to. I sense the Holy Spirit at work in all of this!
Perhaps these are just little examples of the great mystery we celebrate at Easter – of new life emerging out of loss. I certainly feel that Easter will have an extra significance this year and I wish you every blessing.
Rev Joe Moffatt