Clergy Comment July 2022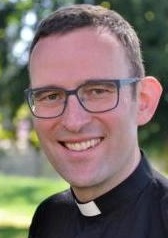 This is my last newsletter as your vicar. It will be a massive wrench to leave Teddington. I doubt I will ever be as embedded in a church or a community as I have been here. There's something special about the first parish where you've been 'the Vicar' and also about the place where your children grow up. The depth of friendship and the amazing support I've had is something that I will always be hugely grateful for. Nevertheless, after thirteen years, longer than the average stint, I feel the time is right to move on.
I'm not going far – just over the bridge to Kingston, to be Team Rector of Kingston, a role mainly based at All Saints Kingston, the ancient civic church opposite John Lewis but with two other churches in the team ministry as well. It's a role that I feel drawn to with a different set of challenges and opportunities from those I've faced in Teddington and a slightly wider scope. So I'm excited at the prospect and feel it's the right kind of move for me at this stage of my ministry.
My last Sunday is 17th July. We will then move house in August before an Institution Service in All Saints Kingston on 7th September at 7.30pm.
I know that I leave you as strong as any parish facing an interregnum. You have a fantastic clergy team and two wonderful churchwardens in Carla and Robin. I regret that I haven't been able to see the Building Anew project through to completion but I know the Governance Group will continue to drive that through the next stages and the Archdeacon is on standby to help, not least in fronting the fundraising appeal.
St Mary with St Alban is an amazing church and Teddington is the best place to live in London (as we all know) so I feel very privileged to have served here. Thank you – and may we all continue to grow in faith and friendship.
Best Wishes,
Revd. Joe Moffatt
Find out more from Senior Churchwarden, Carla Maroussas, about the interregnum here.